Language resources for speech pathologists, teachers and parents
Support a child's syntax by sharing specifically written stories.
Syntax provides the underlying reasons of the rules in grammar and helps us to make clear sentences that 'sound right'. By providing support for developing syntax skills, we can help children understand and construct increasingly complex sentences. It also has implications for reading and literacy.
Vertim Vocabulary produces stories that are ideal for children who are learning the targeted syntactic form, such as regular past tense '-ed' or third person singular 's', or need a little extra help carrying these over into everyday talking. Accompanied by simple yet colourful pictures, each story has been written specifically to provide multiple models of the targeted syntactic forms. The often amusing stories help to engage young children and capitalise on their learning by providing clear, repeated, contextualised input.
See a sample of a Syntax Story below and click here for the range of Syntax Stories.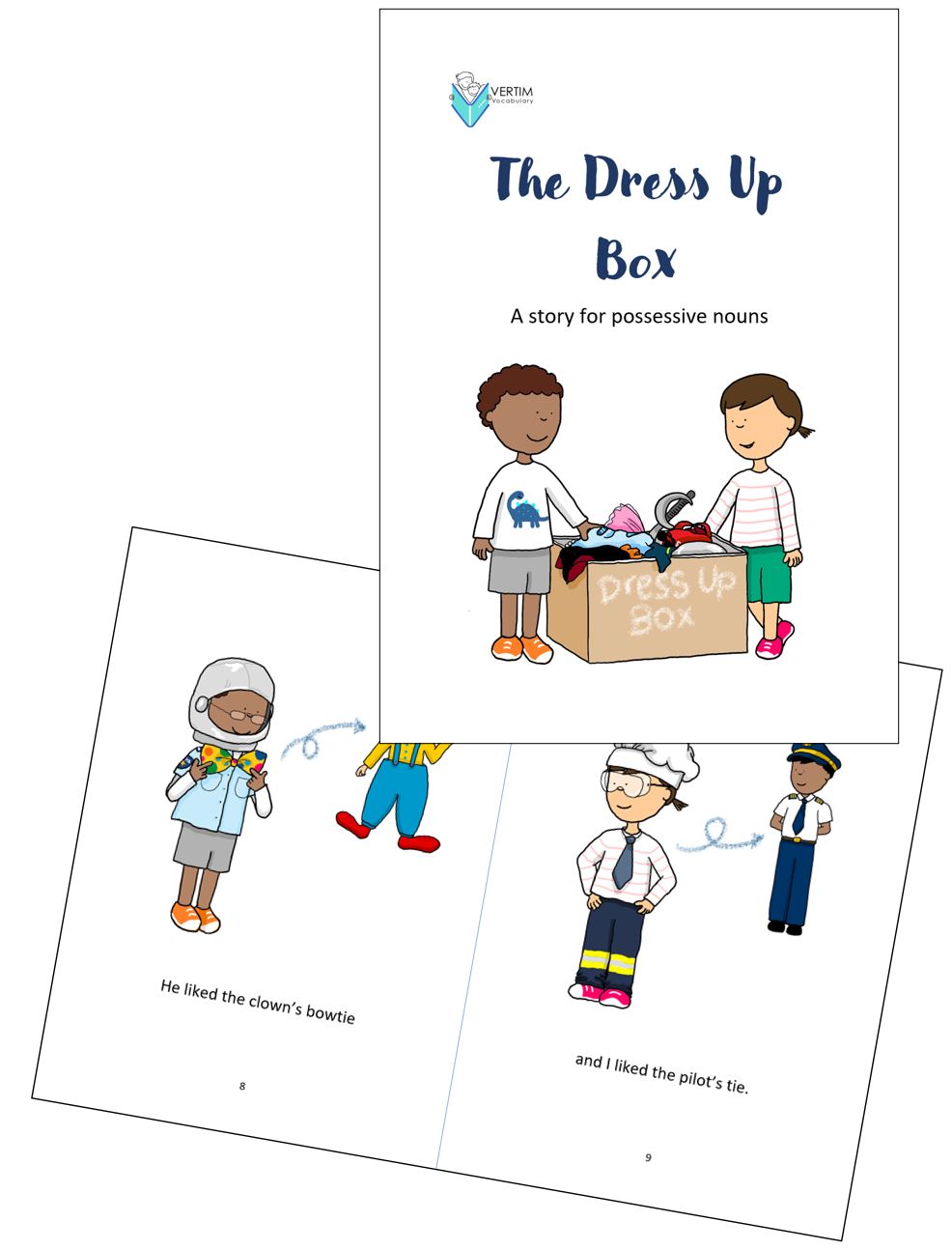 Expand a child's vocabulary by combining direct teaching with children's books.
A child's vocabulary size is a strong predictor of their ability to understand and express ideas and is correlated to later reading comprehension. There is much information available on the importance of having a "good vocabulary" and how many words children are expected to understand and to use as they progress through different ages and stages.
Children who have a "good vocabulary" are generally successful and confident communicators. However, for a myriad of reasons, some children are at-risk of or have a reduced vocabulary, and the gap between them and their same-aged peers often widen over time. There is therefore a need for direct vocabulary teaching, which can be accomplished via robust vocabulary intervention.
Who are the resources suitable for?
These time-saving resources can be used by speech pathologists, teachers and/or parents.
They are ideal for children between 3 to 7 years of age, but may also be suitable for children outside this age range, pending their abilities, their interest in learning language and their attention span.
The resources can be used individually or in groups.
What is in each resource?
Each syntax story contains at least ten examples of the targeted syntactic form in context with illustrations throughout. It is formatted for easy double-sided printing to make a picture book.
Each robust vocabulary resource supplements a specific children's book and contains a
cover page
instructions
6 or 12 picture word cards taken from the story
How do I receive the resource?
The resources are provided as an automatic download. Speech pathologists, teachers and parents can save and print the resource as needed.
The Vertim Vocabulary resources are protected by copyright. The purchaser is granted a licence to print or photocopy the resources for use with the child/ren under their care.
If a licence is purchased by a clinic, school or institution, the programs may be installed on up to 6 computers at one site.
I used the Vertim resources with my then 2 year old son, and l found that it was such an easy resource for me to understand and use as a parent. The highlight for me was when, spontaneously, one day, my son lifted up the side table and said "look mum, the table is tilted". He had only heard that word (tilted) through the Vertim resources and was able to transfer it to an every day situation. I would strongly recommend the Vertim resources- colourful, child friendly, and very affordable!
Vertim resources have helped me fall back in love with using Tier 2 vocabulary! The pictures and definitions are child friendly, engaging, and meaningful.  Vertim is my go-to addition alongside my favourite books in therapy sessions. The clear explanations help parents understand how and why this approach will help their child's communication skills and the Vertim materials empower them to continue at home between sessions.
Vertim Vocabulary has amazing resources for speech language pathologists and teachers who wish to target vocabulary and syntax. I use my Vertim materials on a daily basis when conducting groups or in 1:1 sessions. Thank goodness that the programs work equally well for face to face or telehealth sessions so that when I need to switch to telehealth, I don't have to create new materials. I LOVE the illustrations which are engaging and child-friendly. I highly recommend Vertim Vocabulary!
I have purchased many of the Vertim resources. They have saved me so much time. They are quick and easy to incorporate into my direct therapy with children.  They are easy to share with parents for home practise – the parents love the clear explanation of the STEP process so they know exactly what they need to do. I have recently introduced these resources to some of the teachers I work with and they have been including the targeted vocabulary as part of their book reading activities. The resources are beautifully presented. The pictures are gorgeous and the vocabulary targets are carefully selected for all my favourite books. I love that the kid friendly definitions have been provided and I am able to use consistent language throughout my book reading. I have created sets of cards that now sit with all my favourite books. They are ready to go in a flash and easy to loan to families. I have always loved the Robust Vocabulary approach but these resources have made my job so much easier.
I first found out about the Vertim Vocabulary program from a Speech Pathology course I attended several years ago when it was presented as a means of assisting children in their development of adequate Tier 1 and 2 vocabulary items.  As a Speech Pathologist, I am always looking for quick and easily accessible resources that can be incorporated into my therapy sessions and that can also be provided to the parents of my clients. I have found this program, through its use of popular children's books, successful in assisting not only younger preschool aged children develop their vocabulary skills, but also older school age clients as it is a pleasant change from traditional vocabulary therapy approaches. The range of books within the Robust Vocabulary Intervention is quite robust and its approach only further encourages enhanced parent child interactions when reading. The resources for each book are easy to print out and the explanation page is simple enough for parents to also understand and apply at home. The majority of parents already have some sort of reading time/book sharing incorporated into their child's bedtime routine and this program enables this activity to continue but in a more structured and educational way.
Any speech pathologist who has a busy caseload and knows the importance of home practice needs these resources! Vertim Robust Vocabulary Resources have literally saved me hours of preparation and during lockdown were perfect for telehealth sessions. Vertim RVR provide the multi-dimensional approach required for learning and retaining vocabulary. I work a lot with literacy skills and the value of these resources in developing vocabulary is invaluable because of the reciprocal link between vocab and literacy. The rationale and instructions are easy to follow and the illustrations are gorgeous. Parents love that they can use the books they already have – who doesn't have Nick Bland, Pig the Pug, Macca the Alpaca or The Very Hungry Caterpillar? Feedback from one Mum was that all her children enjoyed being part of the story time and talking about new words – it became a family activity. A childcare educator also emailed me to say that my client, who had never before shared in group time, had explained the meaning of a word to her peers – this was exciting to hear. Proof of generalisation right there!  
Vertim provides a range of evidence based and beautifully illustrated resources for language. I use these resources on a regular basis during appointments as well as materials for home practice for my clients. My favourites in particular are the syntax stories – it's hard to find a resource that targets syntax in a fun and witty way. A must have for a speech pathologist's tool kit!
Vertim Vocab's syntax stories are engaging, clever and loaded with language developmental goals! Fantastic resources for parents, therapists, teachers and educators.
I love Vertim Vocab's resources and recommend them to parents and SLPs alike. They are a fantastic, colourful and useful resource for working on children's vocabulary in therapy sessions and make great send-home activities! Vertim Vocab's been a great way to incorporate evidence-based intervention principles into my work practices – without a lot of effort :)
Subscribe for news and program updates: