Vertim Vocabulary was founded by Veronica Lau and her husband Tim. They live in Sydney, Australia together with their substantial collection of children's books.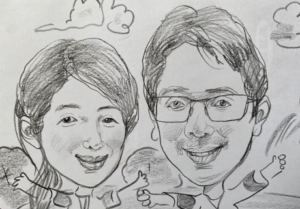 Veronica graduated from the University of Sydney with honours and is a certified practising speech pathologist with over twenty years of experience, working with children of varying ages. She has worked in private practice, community health and in preschools as well as primary schools.
Veronica and her colleagues have been implementing the Robust Vocabulary Instruction approach since 2018, particularly with preschool-aged children who have oral language weaknesses. The parents who have used these robust vocabulary resources at home have commented that they find it easy to use and that the cards enhance their book sharing time with their children.
With the encouragement of her friend and fellow speech pathologist, Suzy Marshall, Veronica decided to write and illustrate these resources for wider use.
In late 2020, a workshop 'Syntax Interventions for Children with DLD' and a syntax book were the triggers for Veronica to consider making a different type of resource – Syntax Stories.
Vertim Vocabulary will attend the Speech Pathology Australia Conference for the first time in Melbourne in May 2022.